Sale
Winix Compact 4 Stage Air Purifier AUS-0850AAPU
The Winix Zero Compact Four Stage Air Purifier is seriously powerful, going through four unique filtration stages to purify rooms of up to 29.5 meters squared.
Portable, compact and minimalist in appearance, this air purifier reduces the prevalence of smoke, pollen, dust, pet dander, mould, bacteria, and chemicals. Whilst these aren't good for anyone, those with allergies, breathing issues or chemical sensitivities can really benefit with this additional protection.
The Fine Mesh Pre-Filter begins the filtration process, capturing pet dander and hair. Next, the Activated Carbon Filter reduces Volatile Organic Compounds (VOCs) and unpleasant odours that emerge from cooking, pets or smoke. The 360° All-In-One Hospital-grade True HEPA filter then traps 99.97% of airborne pollutants, before the final stage of PlasmaWave Technology, which neutralizes all chemical vapours, bacteria and viruses.
While this air purifier is packed with advanced filters and sophisticated technology, the user-friendly design makes it a breeze to operate. Enjoy smart features such as 'Set and Forget' or 'Sleep Mode', and reap the rewards of healthy, fresh air using this Air Purifier from Winix.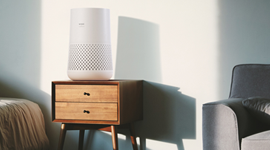 Specifications & manuals
Key Specifications
Winix
AUS-0850AAPU
White
371 mm
241 mm
241 mm
29.5 m3/hr
3.1 Kg
Warranty
2 Years
Not intended or designed for commercial use.
Other Features
4-stages of air filtration
Optimum room size: 29.5 m²
360° All-In-One Australian Hospital-grade True HEPA filter – captures 99.97% of airborne pollutants as small as 0.3 microns
PlasmaWave® technology: neutralises viruses (flu virus), bacteria, odours, VOCs (chemical vapours and harmful gases) without producing harmful ozone*
Activated carbon filter: reduces VOCs and offensive household odours relating to cooking, pets and smoke
3 fan speeds with 'set & forget' auto mode Smart Sensor: monitors and reactively adjusts to airborne contaminants
Smart Air Quality LED Display measures and displays the current indoor air quality: blue (good) | amber (fair) | red (poor)
Sleep mode: dims the lights and operates in quiet mode
High energy efficiency: up to 6x more efficient than a typical 60w household light bulb
Replacement air filters: reliable availability at 'value for money' prices